TITANIC (BLU-RAY + DVD + COPIE DIGITALE)
Une des plus grandes tragédies maritimes en tant de temps de paix fut celle du naufrage du plus grand paquebot de croisière du début du 20e siècle. La nuit du 14 avril 1912 vers 11 :45 su soir, le bateau avançant à 20 nœuds frappe un iceberg sous sa ligne d'eau du côté droit (tribord) du bâtiment Britannique ouvrant une brèche inondant la salle des moteurs et les dortoirs des mécanos.
De plus, le second activa les panneaux d'isolement dans les sections touchées, mais malheureusement 5 des stations furent inondées et selon les normes d'ingénierie, le bateau pouvait tenir à flot avec quatre et non cinq. Mille cinq-cents vingt personnes trouveront la mort sur un nombre de deux mille deux cent vingt à bord. Due à des manœuvres incomplètes et à l'entêtement des gens de première classe à s'attribuer les canots de sauvetage remplis au tiers de leur capacité, au manque de canots comparativement au nombre de passagers et à des manœuvres de secours hors normes, le bilan est ce qu'il est!
Le paquebot coula vers les 2 :20 du matin le 15 avril 1912 laissant une fresque morbide de gens femmes, enfants à 30 % et 80 % des hommes flottants morts d'hypothermie dans les eaux glacées de l'océan Atlantique frôlant les -2 degrés Celsius. Un manque dans la règlementation de l'époque et l'oublie d'avoir laissé des jumelles au à la vigie nocturne du bateau est en grande partie responsable de se désastre. Pour ceux qui n'ont jamais vu le film, c'est une histoire de cette tragédie romancée par le grand producteur et réalisateur James Cameron du plus grand bateau anglais construit dans les usines irlandaises de Belfast.
Paramount Pictures Home Entertainment

Sortie: 10 septembre 2012

194 minutes 

Drame historique, romance 

4 disques

Disque 1-2-3 audio:

français, anglais et espagnol, audiodescription anglaise

Disque 1-2-3 sous-titres: françcais, anglais, angllais (malent) et espagnol

Disque 4: audio:

Anglais

Directeur: James Cameron

Scénario: James Cameron

Interprètes:

Leonardo DiCaprio   (Jack Dawson)

Kate Winslet   (Rose DeWitt Bukater)

Billy Zane   (Caledon 'Cal' Hockley)

Kathy Bates   (Molly Brown)

Frances  Fisher   (Ruth DeWitt Bukater)

Gloria Stuart (Rose âgée)

Bill Paxton   (Brock  Lovett)

Bernard Hill   (capitaine Edward James Smith)

David Warner   (Spicer Lovejoy)

Victor Garber   (Thomas Andrews)

Jonathan Hyde   (Bruce Ismay)

Suzy Amis   (Lizzy Calvert)

Lewis  Abernathy   (Lewis Bodine)

Nicholas Cascone   (Bobby   Buell)

Anatoly M. Sagalevitch   (Anatoly Milkailavich)

1er disque Blu-ray:

Suppléments:

Director Commentary by James Cameron (2005) on / off

Cast and Crew commentary (2005) on / off

Historical commentary by Don Lynch et Ken Marshall (2005) on / off

Deuxième disque Blu-ray:

Suppléments:

Documentaries:

Reflections on TITANIC:

Play:

part 1

part 2

part 3

part 4

TITANIC: The final word with James Cameron

Deleted Scenes:

James Cameron introduction (2005)

"I'll be the first"

Rose feels trapped

Brock's dilemma / Rose visits third class

Rose's dreams

"Come Josephine…"

Extended sneaking to first class

Extended escape from lovejoyA kiss in the boiler room

Wireless room / The Californian

"How 'Bout a little ice?"

Flirting with ice

The first S.O.S.

Ismay panics

Molly Brown's rowing school

Irish hospitality

Ida Strauss won't leave

Farewell to Helga

Boat six won't return

Release the hounds

A husband's letter

Jack and Lovejoy fight

Guggenheim and Astor

"I'm not going"

Cora's fate

Extended Jack and Rose in the water

"Out of the question"

"How dare you!"

Chinese man rescue

Extended Carpathia sequence

Alternate ending

Production:

Behind the scenes:

Deep Dive

Upside down wreck miniature

Escondido underwater set

Two rooses

Sinking simulation

1912 Morph transition VFX

Southampton flop

View from the pub VFX

Leaving port VFX

Melting Pot

The millionaire's suite

The engine room

TITANIC at sea

Digital people

The million dollar shot

The big exterior ship set

Rose suicide

Big ship set VFX

Tux story

The grand staircase

Costume design

First class dining shoot

The dinner shoot

Third class party

A woman's place

The etiquette kid

The boiler room

Flooding hold miniature

Iceberg / deck VFX

Boiler room flooding

First class lounge miniature

Shooting in steerage

Kate's action costume

Crane as helicopter

Lifeboats 13 and 15

Flooded first class

Dining room

Stage two sinking set

Faking a tilt

The sinking riser

Ship extensions

Falling funnel

Grand staircase flooding

Miniature hall flooding

Jumping stunts

The tilting poop deck set

Deck sliders

Digital stunnt people

Sinking videomatic

Ship split miniature

Vertical poop deck stunts

The toilet paper shoot

Final plunge VFX

Underwater greenscreen

Interior tank shoot

Breath shots

Exterior tank shoot

Ice makeup

Open lifeboats and the Carpathia

Carpathia medal

The final shoot

Making the music video

Construction Timelapse : Commentary by Ed Marsh on#off

Deep dive presentation narrated by James Cameron

$200,000,001: A ship odyssey (The TITANIC crew video)

Videomatics:

Videomatics introduction

Sinking Sequence

Deep Dive

Visual Effects:

VFX shot breakdown: "Engine room"

VFX How-to for "I'm flying"

VFX Hoow-to for "First class lounge"

TITANIC sinking simulation

Archives:

Music video "My heart will go on" by Celine Dion

Trailers:

Teaser ytrailer: Concept artwork

Theatrical trailer 2

treatrical trailer 3

International trailer

2012 release trailer

2012 release trailer 3D

TV Spots:

Destiny

Opposite worlds

Know the legend

Nothing you expect

Heart will go on

See it again

Honored

Still galleries:

TITANIC scriptment by James Cameron

Storyboard sequences

Production artwork

Phootographs

Ken Marshall's ppainting gallery

Concept posters and one sheets

TITANIC Parodies:

MTV's "1998 movie awrds" skit

Saturday night live skit(air date January 9, 1999)

TITANIC in 30 seconds

Credits 2005

Sous-titres: anglais, français et espagnol
L'histoire de Rose DeWitt Bubaker qui embarque sur le navire avec sa famille et son fiancé Caledon 'Cal' Hockley fils de famille riche pour la première traversée de cet immeuble flottant en direction de la ville de New York. Entretemps, le jeune Jack Dawson qui vit au jour le jour étant artiste- peintre gagne deux billets au poker pour ladite traversée. Il et son ami italien auront la chance de leur vie de retourner au pays de la postérité. Dans la foulée de cette histoire, Rose qui n'est plus capable de vivre dans cette classe de gens qui ne vivent que pour l'argent et le profit et qui ne savent pas profiter de la vie.
Elle se rendra à l'avant du bateau pour se jeter par-dessus bord pour mettre fin à cette vie sans aucune joie, mais le jeune Jack Dawson arrivera sur les faits lui qui à l'œil sur elle depuis le premier jour qu'il l'a aperçu sur le pont. De cette première rencontre, le doute s'installera dans la tête de la jolie demoiselle et une relation interdite débutera et la flamme de la passion brûlera les deux cœurs dans ce drame romantique. Un film grandiose avec des scènes de toute beauté du bateau et de l'océan jusqu'à tant que le drame s'installe et le début des horreurs s'empile les unes sur les autres.
Une tragédie historique qui est la plus grosse en temps de paix, à 18 mois de la Première Guerre mondiale, un évènement historique de grande envergure. Les scènes de l'engouffrement du bateau sont incroyablement réelles aux yeux des spectateurs. La précision des cascades et l'apport de la haute définition nous apportent un tableau visuel fantastique, le son vous donne la chair de poule et la force et l'impact dans vos oreilles est très amplifié avec le THX qui est un supplément technique efficace.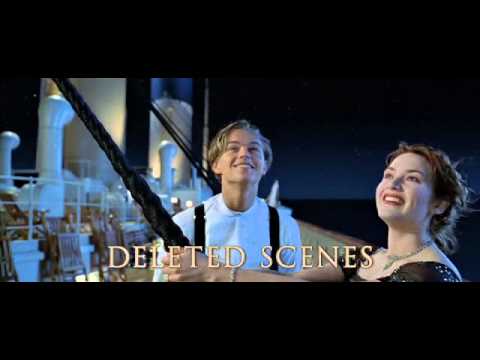 De plus, la collection comporte un disque entier de suppléments en plus d'en posséder sur les autres disques, une quantité phénoménale d'informations sur le tournage, le montage, les effets spéciaux et le maquillage, les costumes et les maquettes du bateau et des planchers de ponts. Des commentaires de monsieur Cameron et d'autres personnages du tournage sont des atouts importants et l'ajout du vidéo de Céline Dion avec sa fameuse chanson ''My Heart Will go On''. Un coffret unique et un souvenir historique de la pire tragédie maritime d'avant-guerres.
Un ajout important à votre collection!
Guy Caumartin aka Le Frelon Vert