AMERICAN REUNION (BLU-RAY + DVD +COPIE DIGITALE)
Voilà 13 ans qui se sont écoulées depuis le tout premier épisode ou l'on a pu découvrir la joyeuse bande d'amis formée de Jim, Oz, Finch, Kevin et bien sur Stifler. C'est le temps de la réunion des diplômés de la promotion de 1999 et nos amis décident de profiter de l'occasion pour revivre un weekend comme dans le bon vieux temps, cependant, maintenant âgés dans la trentaine, ils sont persuadés de pouvoir vivre ses retrouvailles comme auparavant. Ils découvriront assez rapidement qu'ils ne sont plus aussi jeunes et « in » qu'ils le pensent et se verront confrontes a des adolescents et des situations autant semblables et farfelues que les volets précédents.
Jim et Michelle sont maintenant parents d'un petit garçon et on réalise très vite que leur vie sexuelle n'est plus ce qu'elle était. J'ai adoré voir Jim encore aussi innocent qu'au premier volet, le sexe étant encore très important pour lui, mais il ne sait pas plus comment si prendre sans se mettre les pieds dans les plats. Dès le début, on revoit la fameuse chaussette utilisée par Jim pour ses moments intimes et il n'y a pas une seconde de perdue pour nous faire rire et nous ramener à la simplicité de ces instants.
Distributeur Universal Pictures
Sortie: 10 juillet 2012
113 minutes
Comédie
Couleur
Réalisé par Jon Hurwitz, Hayden Schlossberg
Producteur exécutif Seann William Scott
Producteur exécutif Jason Biggs
Blu-ray:
1080P haute définition
Audio: anglais DTS-HD Master Audio 5.1, anglais DVS 2.0, français et espagnol DTS Surround 5.1
Sous-titres: anglais SDH, français et espagnol
DVD:
Format:
Audio: anglais, espagnol et français dolby digital 5.1 et anglais DVS 2.0
Sous-titres: anglais SDH, français et espagnol
Interprètes:
Jason Biggs   (Jim)
Alyson Hannigan   (Michelle)
 Chris Klein   (Oz)
Thomas Ian Nicholas   (Kevin)
Tara Reid    (Vicky)
Seann William Scott   (Stifler)
Mena Suvari    (Heather)
 Eddie Kaye Thomas    (Finch)
John Cho    (Mile guy #2)
Jennifer  Coolidge    (Stifler's Mom)
Eugene Levy   (Jim's Dad)
Natasha  Lyonne   (Jessica)
Dania  Ramirez   (Selena)
Katrina  Bowden   (Mia)
Jay Harrington    (Dr. Ron)
Blu-ray extras:
Play theatrical version
Go to unrated version
Chapters
Deleted scenes:
Play All
Jim Cornes Home Drunk
Heather and Mia
Oz asks Heather out
Stifler preps for party
Finch and Jess
Vicky's New Guy
Finch and Selena in bathroom stall
Play All:
Jim and Dad in bedroom
Stiflor greets guys
Jim's kitchen scene
Nudity on the beach
Shit in the hair
Never have I ever
Prateek / Stifler phone call
Jim's dad sequence
Full Oz dance sequence
Jim's dad and Stifler's mom
Jim and dad kitchen advice
MILF Guy #1 at the reunion
MILF  guy
Alternate takes
Gag reel
The ''Out of Control'' track
The r''Reunion'' Reunion Re Lauching the series
The best of Biggs: Hangin' with Jason B.
Lake Bake
Dancing with the Oz
American Gonad-iators: The fight scene
Jim's
Ouch!| My Balls!
American reunion yearbook
Commentaires du film avec l'assistant directeur et l'assistant scénariste Ian Hurwitz & Hayden Schlossberg on / off
My scenes
DVD extras:
Deleted Scenes
Gag reel
The ''Reunion'' reunion : Re-Lauching the series
Jim's dad
Ouch my balls
Commentaires du film par l'assistant directeur et l'assistant Jon Hurwitz & Hayden Schlossberg on / off
Immédiatement, je me suis rappelé tous les faits et situations bizarres des autres épisodes et le sourire me restait coller au visage. Et ca ne s'arrête pas la, tout au long du film, Jim et Michelle nous plonge dans une mésaventure sans aucune limite, et jamais je ne me serais douté des idées que tous les deux arrivent à penser et même faire; de la séance internet avec Nadia au costume sado-maso acheter par Michelle pour égayer leur vie de couple.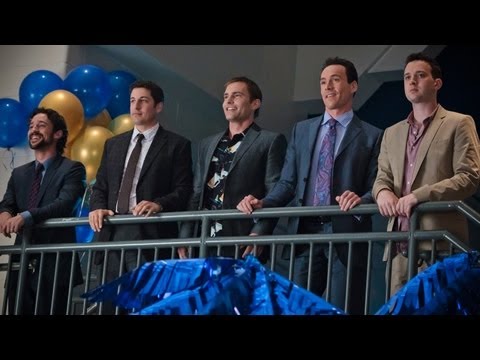 Quant aux autres lurons, ils devront eux aussi confronter leurs vieux démons; des filles à moitie nues et des folies des plus démesurées. Moi qui croyais qu'il avait atteint l'apogée de gags, je peux dire que le film a su me surprendre et surtout ne faire rire sans vraiment avoir à me demander pourquoi je ris! Le scénario, bon, ce n'est pas l'histoire du siècle, mais juste de revoir nos personnages préférer vieillis, mais aussi amusants. Sans être le film de l'année ni le plus intelligent, American Réunion s'est révélé être très drôle et léger voir divertissant en gardant le même état d'esprit que les volets précédents.
Julie Veillette