THE THREE STOOGES (BLU-RAY)
Larry, Curly et Moe, un trio populaire des années 20 connues sous le nom des ''Three Stooges'' avec Larry, Curly et Moe ont fait la pluie et le beau temps à leur époque avec leurs mimiques burlesques et la pléiade de grimaces et de cascades bien à eux. Ils ont couvert les écrans de l'époque avec plusieurs courts-métrages, des productions cinématographiques et même de la bande dessinée, ils étaient les rois de la bouffonnerie et de la comédie.
Voici une présentation sur l'histoire de ce groupe sorti d'un orphelinat dirigé par des sœurs qui seront les victimes d'un destin à la fois tragique, mais en humour. Des jeux de mots dont ils sont les spécialistes du palmarès de farces de crooners. Ils devront se débrouiller pour survivre dans un monde qui n'est pas du tout ce qu'ils s'imaginent eux qui sont si naïfs et bons. L'orphelinat qui les a gardés ne peut plus payer ses dettes et les laissera partir.
20th Century Fox
Wessler Entertainment
C3 Entertainment inc.
Sortie : 17 juillet 2012
92 minutes
Comédie
Directeur: Bobby Farrelly et Peter Farrelly
Scénario: Mike Cerrone et Bobby Farrelly
Interprètes:
Sean Hayes   (Larry)
Will Sasso   (Curly)
Chris Diamantopoulos  (Moe)
Jane Lynch   (mère supérieure)
Sofia Vergara   (Lydia)
Jennifer Hudson   (sœur Rosemary)
Craig Bierko   (Mac)
Stephen Collins   (Mr. Harper)
Larry David  (soeur Mary-Mengele)
Kirby Heyborne  (Teddy)
Carly Craig   (Mrs. Harter)
Kate Upton   (soeur Bernice)
Marianne Leone  (soeur Ricarda)
Brian Doyle-Murray   (Monsignor Ratcliffe)
Mike 'The Situation' Sorrentino   (The Situation)
Extras:
Deleted and extended scenes
The three stooges mash-up
Theatrical trailer
Sneak Peek
Alors, nos trois bonhommes seuls dans le vaste monde vont tout tenter pour trouver les $875.000 dollars que l'orphelinat a besoin pour rembourser ses dettes et rester ouverte sinon c'est la fin et le début des cauchemars dans les familles d'accueil pour les enfants. Ils se feront approcher par un couple maléfique qui les entrainera dans une course folle et dangereuse.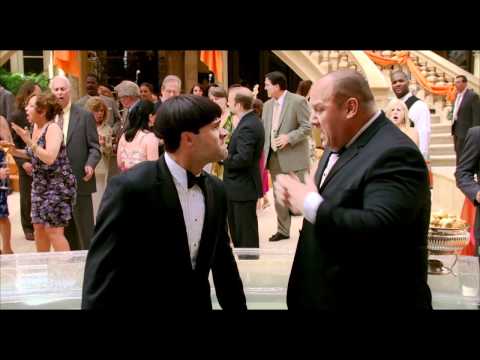 Un film qui est drôle avec ses farces de music-hall des années 20, un trio complètement déchainé qui est un clin d'œil important au souvenir de ce trio si populaire de l'époque, ils étaient les pionniers des planches de vaudeville et auront pavé la route à bien des comiques, les premiers ''stands-Up'' de l'histoire de la comédie sur scène. Un bon divertissement pour toute la famille.
Guy Caumartin aka Le Frelon Vert